CONTINUUM SOLO PROJECT
Continuum Concert is a concept of a solo concert-performance in which improvisation and notated works co-exist in a single musical gesture. It is an open project, suitable to changes according to the acoustic of de venue and the compositions involved. By improvising, the interpreter-performer is weaving a net that keeps together the various works, creating a musical Continuum. It is a challenge for the musician and for the listener. They become partners in the gesture of creating and re-creating music. Because real time exists continuously…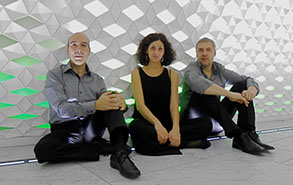 O3 Trio
O3 features the spanish accordionist Esteban Algora, the italian flutist Alessandra Rombolà and the norwegian percussionist Ingar Zach. O3′ music is about the extraordinary blend of the infinitive colors that the three members puts on display with their instruments and the way they create their original archetechtonical structures using improvisational and compositional parameters side by side. O3 works across musical genres having worked with Merce Cunnigham Dance Company, the norwegian experimental circus company Stella Polaris and with the musicians Jane Rigler (USA, flute), Kim Myhr (NOR, guitar) and Jim Denley (AUS, sax/flute).